It seems like almost every big-name awards show these days is a chance for people to take a stand for a cause they believe in or to speak out for injustices being done to others. But for those out there that think this is something new, think again. This has actually been happening for quite some time.
Back in 1973, Marlon Brando took his stand without speaking a single word. Brando won the award for Best Actor at the Academy Awards, for his role as Vito Corleone in The Godfather, but he declined to accept it. Instead, he sent someone else in his place and allowed them speak on his behalf.
RELATED: Without saying candidates names, this Oscar winner made the big political slam of the night
The evening before the show, he announced he would be boycotting the show and sending Sacheen Littlefeather, a little-known actress, in his place. She was the president of the National Native American Affirmative Image Committee.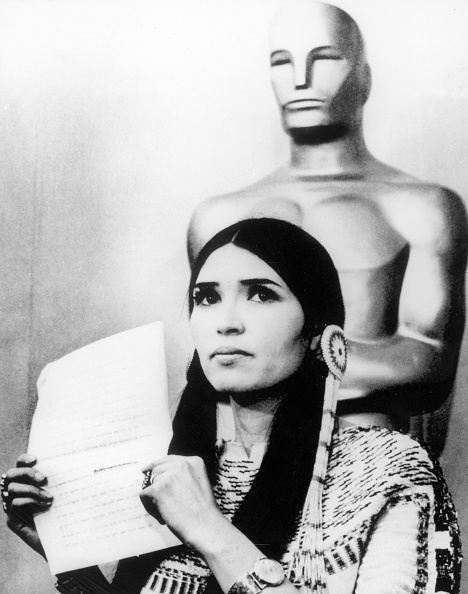 As Liv Ullman and Roger Moore read Brando's name as the Best Actor recipient, they set their eyes on as a woman in full-on Apache dress climbed the stairs. Upon reaching the podium, Littlefeather sat down a piece of paper and had this to say: "I'm representing Marlon Brando this evening and he has asked me to tell you, that he very regretfully cannot accept this very generous award. And the reasons for this being, are the treatment of American Indians today by the film industry."
The video of her speaking is a rather powerful one at that. She was met by cheers, as well as boos from the crowd, but her message was one of substance, giving the Native American community a rare chance to raise awareness of their fight in front of 85 million viewers.
For an actor such as Brando to take a stand and allow someone to speak out about wrong doings was a big deal at the time. It's much more common today, but this is one of the most memorable moments in the history of the Oscars.